Stuff Portrait Day
Well, I had pictures of my two medicine cabinets and a picture that I took on my honeymoon that I was really proud of (that was my best souvenir), but I'm having trouble uploading them. Sorry,
Kristine
.
I am actually feeling
WORSE
since my injection yesterday. Call me crazy, but it's probably because they were jabbing me in the nerve with a needle. I'm still waiting for the medicine they injected to kick in. On a bright note, they let the husband watch the procedure. He was very cute in his cap and surgical mask.
I scared the crap out of the nurse though, because we forgot to tell them that my heart rate runs high. (My resting rate is between 90-100.) When my rate went up to 135 at one point the nurse started freaking out and asking me if I was having chest pain. She thought I was having a heart attack. The husband and I tried to explain that my heart rate is normally very high, but I could tell she was uncomfortable for the rest of the procedure.
The doctor did an awesome job. I hardly felt anything. He said in can take up to a week for the medicine to start working. We'll see what happens.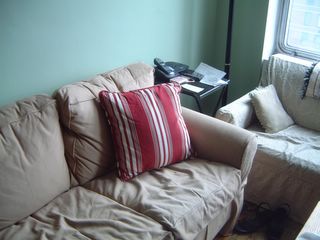 This is my most comfortable/relaxing place. I actually sit here for more than five minutes without being in a lot of pain. The phone is right next to me, the TV is right across from me, the view out the window is of the river, and I'm usually surrounded by sleepy animals.

Seriously, leave me a message! .